Enjoy seamless shopping and full control of your finances.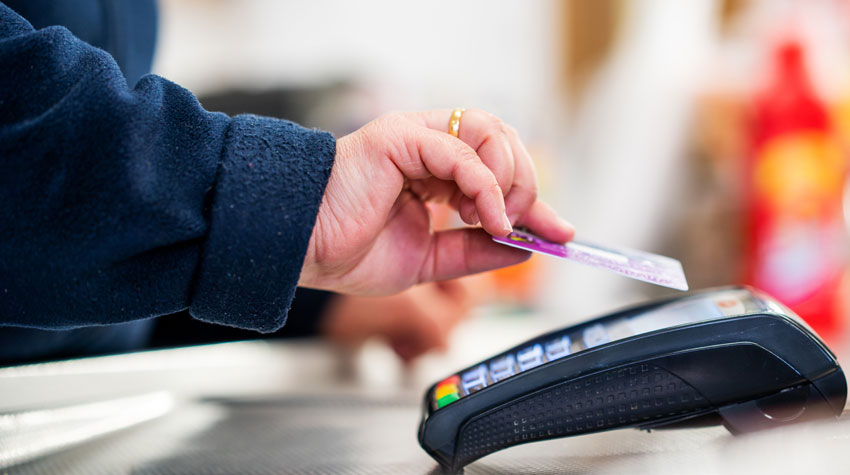 Swipe your debit card wherever Mastercard® is accepted to have the purchase amount automatically deducted from your account. For added convenience, use Apple Pay® or Samsung Pay® on your smartphone, tablet or smartwatch for a safe and easy way to pay for your purchases.
Control your Debit Mastercard® by setting spending limits and getting real-time alerts through Card Valet and deactivate or reactivate your card with iFreeze. Increase your savings even more by simultaneously signing up for our Ka-Ching! Savings Account Program.
Apple Pay®
Apple Pay® is simple to use, safe and convenient, giving you peace of mind. Use your mobile device to easily pay with your Ion Bank Debit Mastercard®.
Unlike paying with a physical card, using Apple Pay® allows you to use your mobile device to pay for purchases at participating merchants with the touch of your finger. It is a more private way to pay.
Adding your Ion Bank Debit Mastercard® is easy. Just open the Wallet app, tap the plus sign and follow the onscreen instructions to start making fast and convenient payments today!
---
Samsung Pay®
An easy way to make purchases on your smartwatch, Samsung Pay® turns your device into a digital wallet with biometric security, so no one can access your financial data. You don't need that bulky wallet anymore or need to worry about losing your debit card!
With Samsung Pay®, you can add your Ion Bank Debit Mastercard® right onto your phone and make purchases in-person, online or using an app. Samsung Pay® simplifies your transactions and is accepted virtually anywhere you can swipe a card.
---
Mastercard® Identity Theft Alerts
Help safeguard your personal information online with this free benefit, available to Mastercard® cardholders. This service continually monitors your online identity, card information and alerts you to potential fraud or theft.
The Identity Theft tool alerts you if it detects your credit or debit card, Social Security number, Driver's License and other personal information is being bought or sold online.
Experienced security professionals can help check for any potential identity theft and offer expert guidance to help keep your online information safe.
Signing Up is Easy! Visit mastercard.us/idtheftalerts and enter the first 6 digits of your Ion Bank Debit Mastercard® to get started. To bring you this benefit, MasterCard® has partnered with CSID, an industry leader in identity protection and fraud detection solutions.
---
Allpoint Network
Also get access to over 55,000 surcharge-free ATMs worldwide with the Ion Bank Debit Mastercard®. Our Debit MasterCard can be used surcharge-free at Allpoint ATMs, located in many retail locations such as CVS/pharmacy, Costco, Hess, Kroger, Rite Aid, Sunoco, Target, Walgreens, Winn Dixie and many more.
To report a lost or stolen ATM or Debit Mastercard®
During Business Hours
Monday – Friday 7:00am – 8:00pm
Saturday 7:00am – 3:00pm
203.729.4442
After Hours
24 hours a day, 7 days a week
833.337.6075 – United States
614.564.5105 – International
To get started with an Ion Bank Mastercard®, explore our Checking Account options!